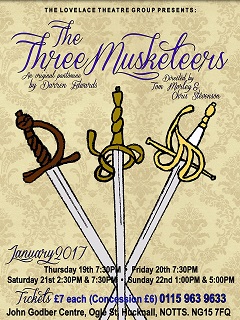 France, 1620s. The Eiffel Tower is yet to be built, the Louvre is a palace rather than a museum, and King Louis XIII sits on the throne, surrounded by his faithful guards, the Musketeers. However, trouble is afoot. The King's chief minister, the Cardinal Richelieu, has big plans and before the King can stop her, she disbands the Musketeers and takes over the whole of Paris.

The King's daughter, the Princess Constance, manages to escape and goes into hiding, whilst the Musketeers find themselves out of work and on the run from the Cardinal's men.

Meanwhile, a young boy, D'Artagnan, arrives in Paris seeking to join the Musketeers.

Can D'Artagnan save the day? Will Constance be reunited with her parents? Will the Cardinal ever be defeated?

Find out as the Lovelace Theatre Group presents

The Three Musketeers

.






Please note: We'd hoped to have a live band for the panto (they're mentioned in some of the previous advertising material) but they've had to pull out due to a scheduling conflict. We hope this doesn't spoil your enjoyment of the panto.