Lovelace Theatre News Archive
01/02/2017 - New website page

We've added a new page to the website, with copies most of our policy and procedure documents. You can find it here. It's still a work in progress, and there are a few more documents (such as the consitiution) still to upload.

16/06/14
Junior Fundraiser Coming July 2014!
We have a fundraising event coming in Juy at the John Godber Centre in Hucknall. Please come along and support us. All proceeds will be used to enhance and enrich our future productions. Of special note will be our junior showcase talent so don't miss it!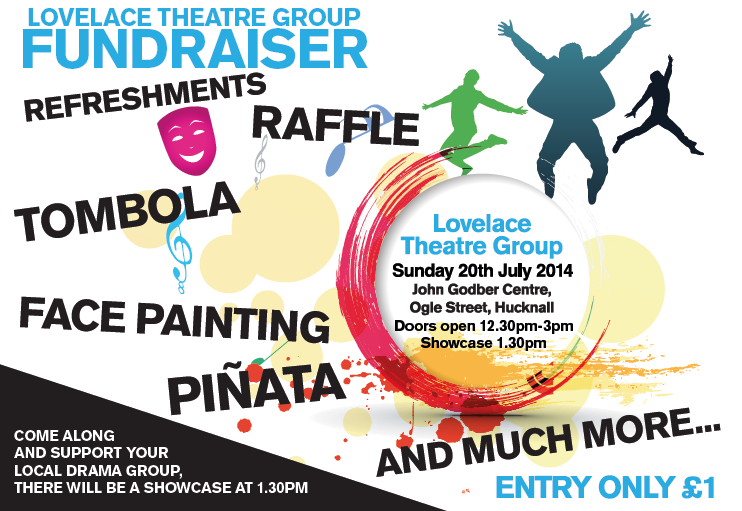 19/07/13
Lovelace Junior Group Fundraiser
In order to raise the profile of our junior section and to provide more resources for nurturing the talent of our junior group the Lovelace Theatre Group have decide to hold a fundraising event on 28th July 2013!
As you can see from our poster below (click to enlarge) we are holding it at the John Godber Centre, Ogle Street, Hucknall. Activities include a tombola, raffle and Face painting amongst others. All are very welcome and you can also enrol members here too.
Our star feature will be a showcase of our talented younsters to display their skills and performance which will take place at 1pm. So please come and support us-you'll have a great time!.
20/05/13
Murdered to Death!
Our May production this year is a comedy whodunnit in the style of an Agatha Christie murder mystery. Errant butlers, mad colonels and dodgy french art dealers all feature in this entertaining play by Peter Gordon..More information here!
09/08/12
'Our Day Out' Now Showing!
The Lovelace Theatre Group is now performing Willy Russell's award winng play 'Our Day Out'. Tickets are available from the John Godber Centre in Hucknall, call on 0115 9639633. More details about our play here
11/07/12
Summer Production Racing Ahead..
Here's a summer treat in store for August. We shall be performing one of Willy Russell's best known plays, 'Our Day Out'. This funny and social play features a mix of adult ans Junior Group actors. It's looking to be a sparkling production.
03/02/12
Drama Over!
What a fantastic show it has been. After sellout performances, the Lovelace Panto 'Cinders' was a great success! There was even more drama on stage when our smoke machine set off the fire alarm and we had to evacuate the building temporarily!
This however never dampened the enuthiasm of the cast or audience and the show went on.
23/01/12
Performance Week!
The Lovelace Theatre Pantomime is on this week. Bookings can be made by calling th John Godber Centre on 01169639633 or emailing at info@lovelace-theatre.co.uk. More information about our production can be found here.
08/05/11
May Production on Track
Our May production, a light hearted comedy called 'Lucky Sods! by John Godber, is in full rehearsal and we look forward to performing it for you in two weeks. More info about Lucky Sods! is here.

24/01/11
Performance Week!
Well the time has almost arrived for us with final rehearsals leading to the big performances. Everything is ready now to provide entertainment this Thrsday, Friday and Saturday. Tickets are still available for all nights, you can turn up on the door or book in advance on 0115 963 9633

21/12/10
Rehearsals In Full Swing
We are now rehearsing our Panto for 2011 Dick Whittington! Now is the time that we work hard behind the scenes to make sure that the production goes off smoothly and that a good night wil be guaranteed for all. Click here for all the info!
25/10/10
Beside the Seaside Goes Down a Storm!
Beside the Seaside, our October production, closed last night after a three night run to great applause. The aventures of the guests at the Seaview boarding house ('two minutes from the sea!') proved to be a ray of sunshine for the audiences who thoroughly enjoyed the performances,done by a hard working and enthusiastic cast.
Not ones to rest on their laurels however, the Lovelace Theatre Group will be starting rehearsals soon for their 2011 panto, Dick Whittington. More details to follow soon on this, but if you are interested in helping out either acting or behind the scenes then please do not hesitiate to contact us!
17/09/10
October Production Goes Forth!
The chosen play for our October production is 'Beside the Seaside', a comedy set in a boarding house in a seaside town in northern England. Casting has been done and rehearsals are underway for the production in October. More details below and tickets for this event can be obtained by calling the John Godber Centre in Hucknall on 0115 9639633
9/08/10
Lovelace Junior Session Next Meet!
The next session of the Junior Section of the Lovelace Theatre group is scheduled to be on 8th September 2010. If you would like to join and are interested in becoming a member please pop along where you'll be made most welcome. You can also email us here for further information or details about us.
27/07/10
New Committee Elected
A new committee has now been elected. See below for the names of the new roles and members.
02/06/10
Curtain Down on a Great Performance!
Another production is over once again for the Lovelace Theatre Group and a brilliant performance it was too. Great audiences helped to make the production really stand out. You can read reviews and other details about this performance here.
03/04/10
Curtain Up On Our Next Production!
For our may production we've chosen a tight thriller about an amatuer theatre company rehearsing in an old theatre hall. Hmmm sounds familier! Please see below for details or click here.
01/02/10
It's All Over..
well what an absolute success this year's production of Aladdin has been. Helped along by great audiences, all the cast and crew can now take a well earned break for a couple of weeks before casting begins for th enext production. A well deserved round of applause for all concerned and to director Roger Knowles who put the show together.
18/01/09
Amost There!
Excitement now builds for the pantomime Aladdin which is on beginning 28th January! Ticket can be obtained by calling the John Godber Centre on 0115 9639633. Will Widow Twanky find all her smalls? Has Aladdin captured the heart of the beautiful princess? And will the evil Abanaza destroy the whole kingdom with his wickedness? Find out at the performance!

06/11/09
Rehearsals Begin!
Casting has been done now for our production of Aladdin. it is to be directed by Roger Knowles who has considerable experience in this field and we now look forward to putting in the hard work necessary to make this year's Panto a success. More details will be coming very soon regarding information on how to obtain tickets etc but the dates for the performances are confirmed for 28th, 29th and 30th January 2010.

22/10/09
An Eventful Evening!
Last weekend saw the Lovelace Theatre Group peform Two One Act Plays 'Hiccups and Slipups' and 'Last Tango in Little Grimley.' Both plays were well received and audiences were treated to a fun evening. Read the review in the Hucknall Dispatch here.

16/09/09
October Production in Rehearsals..
Our next production will consist of two one act plays. A comedy set in a vet's waiting room followed by a comedy drama about a theatre committee group! There are sure to be laughs a plenty with these so it promises to be a great evening's entertainment!

20/05/09
A Bazaar bit of Rummage!
It was a rum do for our May production of Bazaar and Rummage! A great cast and good performances made this an interesting set of evenings.
03/02/09
Our Next Production
In anticipation of our May production the Lovelace Theatre Group are holding a get together on the Monday 9th Feb at 7.30pm at the John Godber Centre to discuss this and also to asess who would be interested in being part of it. If you would like to try your hand at acting, or to help backstage then please feel free to attend the above meeting, or email info@lovelacetheatregroup.co.uk for more details.

We also have a Junior Section and the next junior session will be Wednesday 18th Feb at 7.30pm. All juniors welcome!

01/02/09
Wow!
What a performance run! Sleeping Beauty closed on saturday to great applause. Both cast and crew are to be commended for all the effort and time in making the Pantomime a complete success. Full houses most nights ensured two hours of fun and laughter. Those that came were certainly not disappointed.. Director Rebecca Morris, who also starred and wrote the script, recieved flowers and thanks afterwards in appreciation of the time and work she put in

27/01/09
Almost There..
The show is almost ready! After three months of hard work and rehearsals the Lovelace Theatre group are very proud, under the direction of Rebecca Morris, to present our Panto 'Sleeping Beauty'.

I t looks like Friday and Saturday are amost full but there are tickets left, please call the booking line on 0115 9639633 for further information if you require tickets. See the Sleeping Beauty page for rehearsal shots and further information about the Panto. Enjoy the show!
15/11/08
Sleeping Beauty Rehersals Commence!
After a brief respite from our last production the Lovelace Theatre Group have teamed up with the Felley Players to present the family Pantomime favourite 'Sleeping Beauty'. Rehearsals are now in progress and more details will appear very shortly, watch this space!
16/09/08
Rehearsals for The Ghost train Under Way..
Our next production, Arnold Ridley's 'The Ghost train' will be performed in October 2008 and rehearsals are now well under way.

This popular drama provides suspense and intrique as a collection of characters spend the night at a remote west country railway station, having missed the last train due to a mishap on the train on which they were travelling.

17/07/08
Election of new commitee and Our next performance..The Ghost Train by Arnold Ridley
The AGM meeting of the Lovleace Theatre Group took place on the 16th July. New commitee members were elected, these are shown at the bottom of the page.
Reading and casting will soon start in July for the Lovelace Theatre's next production which will be Arnold Ridley's 'The Ghost Train'.
This long standing favourite will be performed at the theatre not for the first time.

07/01/08
Rehearsals now in Progress for the Lovelace Panto, 'Alice'
Our last play, 'Absurd Person Singular' recieved great reviews after it's recent performance at the Lovelace Theatre.

But now onwards we go and it's eyes down for our up and coming panto which this year is 'Alice', an adaptation of the famous book by Lewis Caroll. There's a King and Queen of course, the Mad Hatter, Cheshire Cat and a caterpillar on a toadstool too!

Performances start in Janaury 24th through to the 26th January including a Saturday matinee . See details here for more information.

08/10/07
Absurd Person Singular in rehearsals..
Well with the success of Saving Up For Supper the Lovelace Group are not resting on their laurels! Production is well under way now for our next performance of an Alyn Ackbourn play 'Absurd Person Singular'. This witty comedy, centered around three couples in their kitchens over three succesive years, is now in rehearsal. See below for tickets and performance times.

08/10/07
Saving Up For Supper DVD!
After the success of 'Saving Up For Supper' a DVD of the production is now available! Priced at £4 including post and packing, it follows the performance in a documentary style with interviews from the main performers.
The DVD can be ordered from Mr Keith Williams, 4 Common Lane, Huicknall, Nottingham NG15 6QE and payment can be made by cash or cheque, payable to 'Lovelace Theatre Group'.
26/04/07
A Hundred Years of the John Godber Centre
To celebrate the John Godber Center being 100 years old the Lovelace Theatre Group along with Hanby and Barrett and St Mary's Church are taking a look at those 100 years through the eyes of the people who have known and used it in the medium of theatre.
Entitled 'Saving Up for Supper', (see below) it tells of the people who have used the centre over the years, their enthusiasm, energy and all the happy memories that have contributed to make the Church Hall, as it was known, a hive of local social activity in Hucknall. More details here!

28/01/07
A Success!
The pantomime 'Cinderella' has finished on a high note after 4 stonking performances. Great attendances coupled with comic laughs and great entertainment made this an excellent show. All the cast an production team would like to thank you the public for coming along, and we hope you enjoyed it enough to come back for our next panto!

24/01/07
Now in Performance!
The Lovelace Theatre's production of Cinderella is now showing!! After much preparation we are all ready to entertain you all. Tickets are still available for Saturday night. Please see the Cinderella page for more information! We hope you enjoy the show..
17/12/06
Rehearsals In Full Swing!
The mood of the cast is one of excitement now as rehearsals take place and the script and songs are being plotted and finalised to completion. With only 5 weeks to go there's still a lot to do but it will surely be done in time for the opening night! See below for contact details and information regarding tickets..
06/11/06
Cinderella Read Throughs..
It's pantomime time. Oh no it isn't! Oh Yes it is! Read throughs and casting have begun for this year's panto, Cinderella. if you feel you would like to take part whether behind the scenes or on stage we'd love to hear from you. Please contact us through our email at info@lovelace-theatre.co.uk and we'll get in touch with you..


27/10/06
Another successful performance!
The latest production from the Lovelace Theatre group has come to an explosive end-literally! The final performance of Gosforth's Fete went with a bang as the on stage pyrotechnics surprised all with their effiency..
Special praise goes to all the cast especially the Junior group and the Eastwood Arcadian band without whom the show would not have achieved the impetus it did. Onward and upward next as the group start read throughs for this year's pantomime, Cinderella.

15/10/06
Dress Rehearsal
The cast have worked hard today for the dress rehearsal ahead of the start of public performances on Thursday. Everyone performed very well indeed and judging by the outstanding effort put in it'll be a sure fire winner! Tickets are available still for all performances, please click on the link below for more information.
28/09/06
Our Next Production
The Lovelace Theatre's next performance in October will consist of a series of single act plays, the first one being Gosforth's Fete, the next being Between Mouthfuls. Both play rehearsals are now in full swing with full involvement also from the Junior Group. Meanwhile if you are interested in joing our group, please feel free to drop us a line at info@lovelace-group.co.uk or by coming along to our rehearsals every Monday and Thursday at 8pm at the Lovelace Theatre, The John Godber Centre Ogle Street, Hucknall.

21/05/06
Bily Liar a Success!
The Lovelace Theatre Group's performances of Billy Liar were well recieved during the three night run! All the cast were superb in their respective roles and special credit is due to both Michael Davies, who played Billy, and Mel Harrison who played Florence. A big thanks to all who attended and much appreciation from the commitee to all those who helped in the production.


06 /05/06
Tickets on Sale!
Tickets are now on sale for the upcoming performances of our production Billy Liar, to start Thursdasy 11th May 2006. Please see the link below for more information. With only a week to go now the cast are almost ready to go. Don't miss out on the chance to see this very funny comedy about a boy and his fantasies..

31/01/06
Billy Liar
Billy Liar has been chosen as the Lovelace Theatre's next performance, to be held in May. Rehearsals have already started in earnest on very funny look at one boy's obsession with lying and fantasy.

30/01/06
It's All Over..
The cast of Aladdin are taking a well earned break after 5 delightful performances of their successful 2006 pantomime 'Aladdin'. Saturday night's performance especially was a real hit with the audience, the panto made all the more funnier because the villian Bonanza's moustache kept falling off! We'll be back next year delighting kids and families with our own brand of fun storytelling..You can read more about the cast, with photos and reviews here.